Why Students Should Consider Transform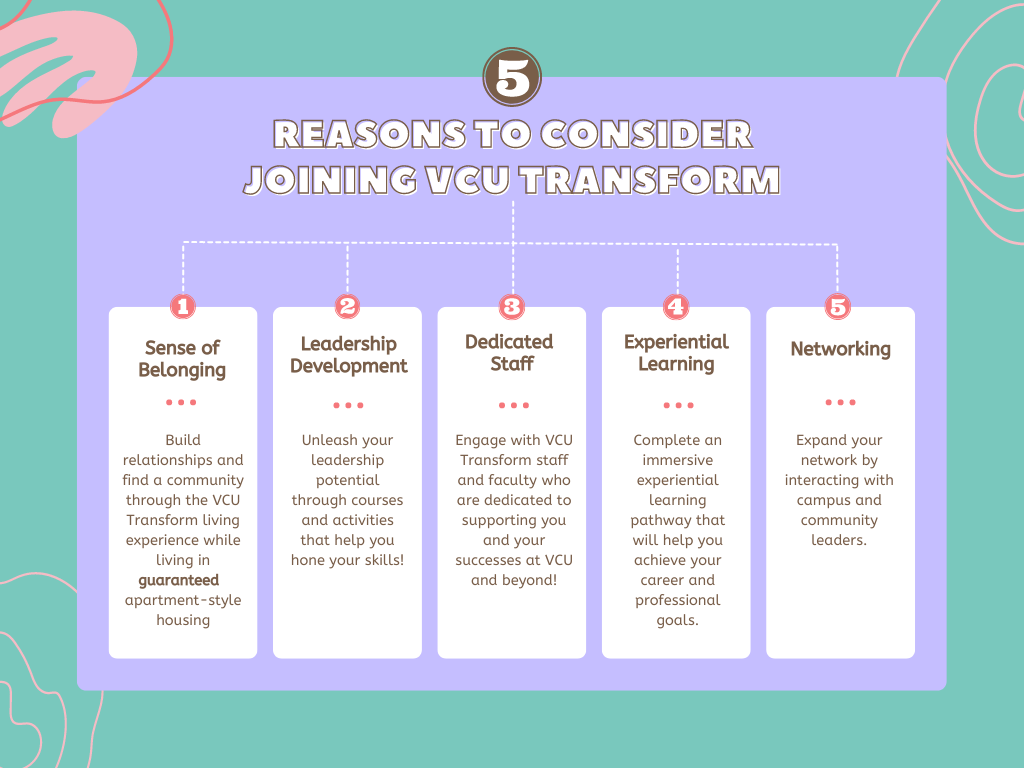 ...and since we couldn't pick just five, here's a few more!
Transform students get to register early for classes!

Program lectures, trips, events, and activities are offered only to Transform students!

You live with, take classes with, and have fun with friends that you've made in the program!

Did we mention that it's guaranteed housing in apartments?

The staff and faculty are pretty cool.

APPLICATION REQUIREMENTS
Be an undergraduate student with 2 years left at VCU

First-year students can apply in their first-year to join as a sophomore

Commit to a 2-year living-learning experience and live in the

West Grace North

Residence Hall

Have and maintain a 2.0 cumulative GPA

Complete an application
APPLICATION TIMELINE
October 23, 2023: Applications Open
November 17, 2023: Priority Deadline
February, 2024: Applications Close
UPCOMING RECRUITMENT EVENTS
In-Person Open Houses @ West Grace North
November 2 from 5:30-6:30pm
November 3 from 12:00-1:00pm
Virtual Open Houses:
There are no virtual open houses scheduled at this time. To meet virtually with a Transform staff member about questions, please email transformllp@vcu.edu.
Frequently Asked Questions
Why should I choose VCU Transform?
VCU Transform is the living-learning program at VCU. Transform students will study and practice leadership through the lenses of community engagement and global competencies. Our students will develop as leaders with the knowledge and skills to make impactful changes in their communities, families, and classes. We also have opportunities through our requirements to explore and engage in leadership, community service, diversity and inclusivity initiatives. We also offer experiential learning opportunities in study abroad, innovation, research, peer leadership, internships, and service. VCU Transform was new in 2021, so if you want to be a part of the 2nd class of leaders making changes at VCU and beyond, this is the LLP for you!
What are the requirements once you're in the Transform program?
All VCU Transform students must follow the following requirements to remain in and comlpete the VCU Transform program:
Maintain a cumulative 2.0 GPA
Live in the west grace north residence hall
Enroll and complete the 9-12 credit course curriculum
Complete at least 60 hours of beyond-the-classroom experiences over 2 years
Engage in experiential learning pathway
Create and submit an e-portfolio
Do I have to live in the Residence Hall to be a part of VCU Transform?
Yes. All students who are in Transform are required to live in our residence hall in West Grace North. The only exception is for RAs who live in other buildings as part of their position.
Can I bring in any roommate to live with me or does my roommate have to be a part of Transform?
Due to the program being a living-learning program, we place students in rooms together who are in the program. You can create a roommate group on the housing application only if they are also members of Transform. Otherwise, you will be randomly placed in an apartment with other Transform students.
Is the VCU Transform program only for specific majors?
Not at all! Our students come from all different backgrounds, levels of experience, and from all majors. We work hard in the classroom and co-curricular activities to reflect and connect leadership learning back to all majors and industries.
Is a 9-12 credit course load manageable for me to take above my normal classes?
Yes, in the previous LLPs we have found that all of our students have no problem adding the additional courses to their schedule. For most semesters, it's only an additional 1-credit class to add.
How can I fit the required courses into my schedule?
There is a bonus of being in Transform—you get to register early! We work with our students to register early and get into our classes. However, we also allow independent study for classes under extreme circumstances.
Is there an additional cost to be in Transform?
There is no cost to be in Transform and we provide all programming, lectures, and events for free to our students. There is a cost to live residentially in the residence hall and for the additional credits, but that is not a fee instituted by the program.
I don't know if I want to apply now, can I wait another year?
Sure! As long as you can commit 2 years in the program, you are welcome to apply any time.
How do I apply?
The link for the application can be found at:
You will be asked to complete several essays and fill out demographic information. Applications will open on October 23, 2023, and will be accepted until the housing deadline or when filled in early-February.